glitterfics.livejournal.com
Title:
Nathan Stark's Town for Peculiar People
Author:

glitterfics
Artist:

tarlanx
Fandom:
Eureka [Fusion with 'Miss Peregrine's Home for Peculiar Children']
Characters/Pairings:
Jack/Nathan, Jo/Taggart, Zoe, Allison, Kevin, Henry, Fargo, Cobb
Rating/Category:
NC17/Slash
Genre:
fusion, romance, humour, supernatural
Word Count:
35,000
Warnings
sex, canon style violence, monsters, child in danger
Summary:
Jack Carter and his daughter Zoe experience a pretty disastrous start to their road trip vacation when they get completely lost out in the middle of nowhere and then crash the car. They seek refuge in the nearby town of Eureka and discover a whole new world of 'peculiars' - people with extraordinary gifts, hiding from the rest of the world and, more importantly, from the monsters that hunt them. Of course, it's just Jack's luck that the monsters chose that moment to find them and he gets dragged into the town's fight for their lives, discovering his own gift along the way as well as having to cope with his intense reaction's to Eureka's stupidly handsome mayor.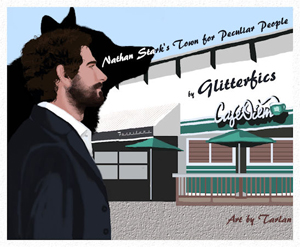 Link to fic master post:
Read on AO3
~
Read on LJ
Link to art master post:
AO3